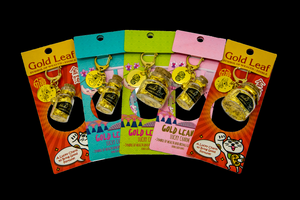 Reborn keyholder collection
Sale price Price $62.00 Regular price $70.00 Unit price / per
Signature Gold Leaves
Gold Leaf in a Bottle key chain collection of 5 designs. (Designs may vary seasonally)
For many generations, gold are seen as a symbol of wealth, prosperity and good fortune. These gold leaves are carefully placed in a bottle, perfect for gifts on any occasions. All our gold leaves are specially made in Japan and are safe for consumption, hold them as a key chain or sprinkle them over food, pastries or beverage for good fortunes!

Country of origin: Japan
Composition: Pure Gold 95.239%, Pure Silver 4.761%
Net weight: 0.011g for big bottle, 0.011g for small bottle.
*For more information please refer to Terms & Conditions