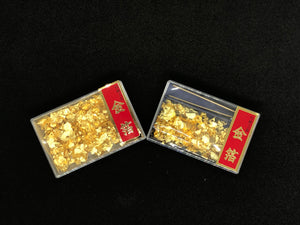 Gold leaf double happiness
Sale price Price $55.25 Regular price $65.00 Unit price / per
Signature Gold Leaves in a box double happiness.
Comes with the original gold leaves in box + gold leaves in box with picker

For many generations, gold are seen as a symbol of wealth, prosperity and good fortune. These gold leaves are carefully placed in a box, perfect for gifts on any occasions. All our gold leaves are specially made in Japan and are safe for consumption, sprinkle them over food, pastries or beverage for good fortunes!
Country of origin: Japan
Composition: Pure Gold 95.239%, Pure Silver 4.761%